I couldn't resist scrapping a page featuring this adorable picture of my beautiful niece, Adelyn. Can you believe she's less than 2 weeks old in this picture?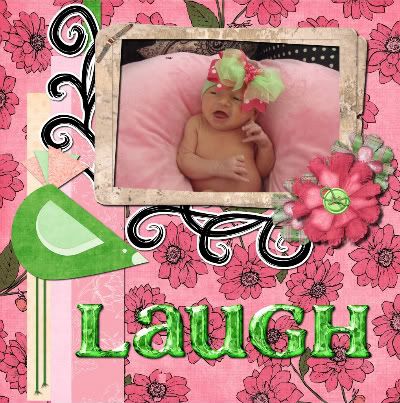 Black swirly stickers are from blog freebie
"Curly Doodles Pack 1"
by Xyreena. Be sure and check out the rest of
her blog
freebies because she has some other really cute doodles too.
Green Gemstone Alpha by Joanna Cinnamon at
My Digital Addiction.
This alpha is no longer available but their are still some great alphas available that would look great with this color scheme. I recommend this
"Girls Night Out Alpha".
Everything else by
Fraisinette
. Plaid flower is from blog freebie
"Fleurs de Tissus"
. Main paper, button, and bird from
"Heureux d'un Printemps Sampler"
, and everything else is from the Heureux d'un Printemps AddOn (no longer available.)
Still working on my shadowing! If anyone knows of any good shadowing tutorials, let me know- I could use them!